Bullpen Misfits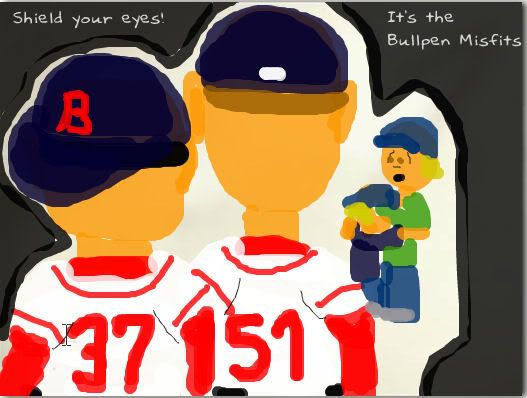 The Bullpen Misfits consists of "
Hide your children!
It's" Julian Tavarez and Rudy "
My head is a block of spam
" Seanez. I mean it lovingly, for they haven't sucked out loud lately. Hell those two kept the Red Sox in the game last night so this is my way of thanking them. Now, as you may tell, these two are just
ridiculously
good-looking
. So of course, I have to do something to honor that. Though despite all the ugly, these are two guys I wouldnt' wanna fuck with. For one thing, Julian Tavarez?
He's fucking craz
y. And Seanez
participates in Ultimate Fighting martial arts
in the offseason for his workout regimen. Yeah um...I'm just gonna say that I'm glad their crazy is on my team's side.